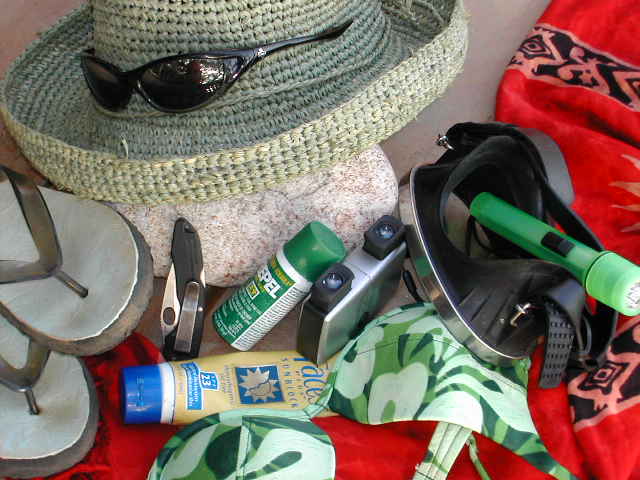 Travel with back packs and duffle bags rather than a suitcase.

For wet foot beach landing, protect your electronics and documents in a water proof bag.

WHAT YOU SHOULD BRING:

Bring personal toiletries, shampoo, sun screen, and lotion (we provide towels/sheets/soap/toilet paper). Crocs like footwear is best. Bring swim wear, sunglasses, sun hat, tank tops, t-shirts. shorts. For winter boat rides and winter nights (mid December -February) have a light wind breaking jacket and a thin fleece. If you like to hike a lot, bring a light weight hiking boots. Bring a lighter, and a flash light with extra batteries, or a solar, which is best to have. Although insect repellent and bite ointment are seldom used, have them handy to apply to your feet against the sand fleas in Boca de Tomatlan waiting for the water taxi (do not pet dogs in Boca, they are very friendly but carry fleas). If you wish to snorkel or fish (no snorkeling in winter months), bring your own gear. You will not regret packing binoculars; they provide restful entertainment.

Bring your favorite snacks and alcohol.