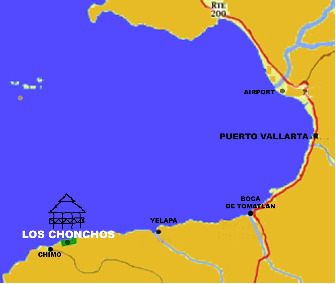 our address: 20º28.321N 105º34.371W












Reaching Los Chonchos Beach From Puerto Vallarta (PV) International Airport involves 3 short connections:

1. PV INTERNATIONAL AIRPORT to PV EL CENTRO

2. PV EL CENTRO to BOCA DE TOMATLAN PORT

3. BOCA DE TOMATLAN PORT to LOS CHONCHOS BEACH

Although the distance between the airport and Los Chonchos is only 30 miles, if your flight arrives past 1pm you will need to stay one night in Puerto Vallarta since the last water taxi from Boca de Tomatlan leaves at 3pm.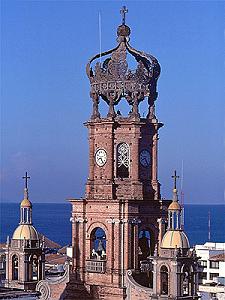 1. FROM P.V. AIRPORT TO P.V. EL CENTRO
From the airport, a street taxi
15 minutes ride
(about $18 USD), will take you to your Vallarta hotel.
There are hundreds of hotels available in Puerto Vallarta metro area.
Vallarta on line
is an excellent on line hotel resource.
EL CENTRO is the main tourist mecca. Staying in ROMANTIC ZONE is the way to spend your first evening and night in the city before your next day hop to Los Chonchos
Puerto Vallarta is a city of 300,000 residents. The main industry is tourism resulting in a pulsating
cafe atmosphere night life, street entertainment, hundreds of restaurants, hotels and shops
. Walking is the best way to explore the cobblestone streets of the city. If you catch yourself needing a lift, a frequent bus ride (6.5 Pesos) or a negotiated taxi ride (50-80 Pesos) will take you to any city place you wish to go.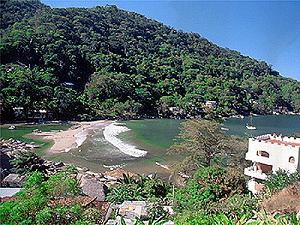 2. FROM EL CENTRO TO BOCA DE TOMATLAN

From your hotel to Boca de Tomatlan take a 20 minute taxi ride (about 180 Pesos). Allow total of one, non-rushing, hour for this travel.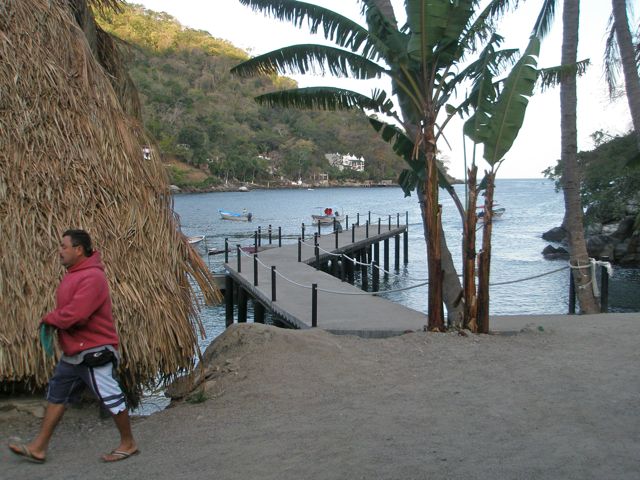 Water Taxi to Los Chonchos/Chimo leaves from the pier in Boca de Tomatlan
3. FROM BOCA de TOMATLAN TO LOS CHONCHOS

When you arrive in Boca de Tomatlan, look for the Water Taxi to CHIMO. The water taxi leaves from Boca to Chimo every day, twice a day, 9am and 3pm and it costs 120 pesos one way per person.
The water taxi returns to Boca de Tomatlan twice a day. The pick up time at Los Chonchos is about 10 am and about 4 pm.

Los Chonchos is accessed routinely by boat. From Boca, riding along the picturesque coastline, passing by famous Yelapa and other small communities, the water taxi reaches Los Chonchos in less than 1 hour

There is an alternative, scenic road access to Los Chonchos. It is some a 2 hour drive from Puerto Vallarta to the Village of Chimo. From there, a 35 minute coastal hike provides a land access to Los Chonchos Beach.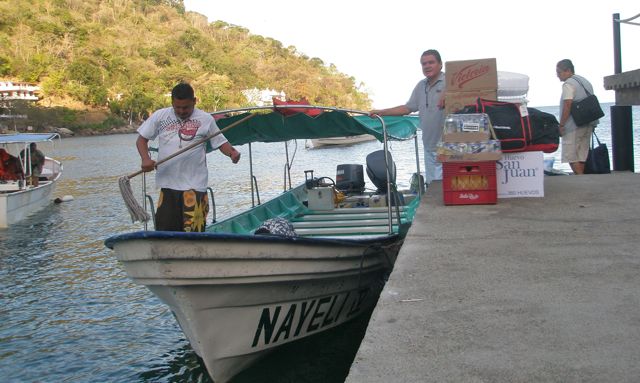 Nayelli II- water taxi to Los Chonchos/Chimo








AIRLINES SERVING PUERTO VALLARTA:

MAJOR AIRLINES:
United, Alaska Airlines, America West, Delta Airlines, Frontier Airlines, Continental Airlines, US Air, ATA Airlines, Air Canadal, Aeromexico, Mexicana, Aviaxa.


CHARTER COMPANIES:

Sun Trips, Apple Vacations, Air Canada Touram, Air Transat Canada 3000